This is just a short post to thank Frances for mailing me my purchase despite her incredibly busy schedule. I was so happy to receive it and I can't wait to get to use the product. A little part of me was nagging that I should have purchased more, because its not everyday that one can buy cosmetics that helps someone else. It is especially important because this is for Mio, fighting for his life battling cancer.
The moment my eyes set on Mio's face, I was extremely saddened... This little boy, at the beginning of his life... its just so terrible. Mio also reminded me of my little 8-year-old nephew, Hisashi: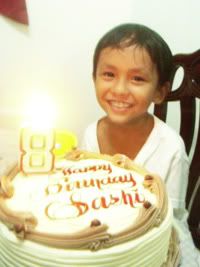 Hisashi brings us joy and happiness, as I'm sure Mio does to his own parents and loved ones. So a huge happy claps and thank yous to everyone involved in Mio Fights Cancer fundraising campaign! I am sure that he will pull through with everyone's love and support!
I'm giddy at my purchase, the
Skinfood Black Garlic Emulsion
and I hope that what little money I gave helps in any way!
If you want to give your support, please do head off to http://www.beautyforaliving.com/ Frances just put some new stuff in!!