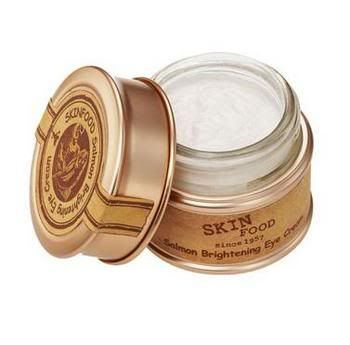 Skinfood Salmon Brightening Eye Serum is a popular line in the Skinfood store. The serum is highly concentrated in omega-3 fatty acid, haloxyl, arbutin and vitamins to improve blood circulation and whiten skin for that pretty, radiant eyes.
This week has been major dark eyebags week for me. I've tried using cucumber when my eyes get too puffy, but it doesn't remove those dark rings under my eyes. It's time for me to take out the 3-piece Skinfood tester I got from Na-Hee and see how it fares.
TIRED EYES AT ITS BEST. HELP ME, SALMON!
(too much work, not a lot of sleep)
The serum is water-based so no clogging oily stuff here! It not only promises to brighten dark eyes, but it also promises to combat fine lines. What I like about this is it is a very light cream, so the skin absorbs it immediately. I just don't like the smell! It's like the smell of old, dry rose which I hate (creepy old rose smell!)

The sample pack lasts for 2-3 uses, since you need very little for both eyes. I have 3 so as soon as I finished all them I'm going to post a before and after shot or something... IF it has any effect lol!